I bought my first NAS in 2010 for a fairly basic need: to be able to make backups at home and possibly use it as a document host. My choice at the time was a DS710+, allowing me to have two hard drives in RAID, which I later extended years later with a DX510 extension, allowing me to add five additional drives.
It's now 2021, 11 years later, and my DS710+ is working just as well. It is obviously terribly slow and no longer receives updates, making it a security risk. Not to mention the risk to the preservation of my data.
Furthermore, as it is slow and old, I cannot, except for storage, really use it for other more demanding self-hosted needs.
So, I decided to buy a new one… after 11 years, you must know how to treat yourself occasionally. Given the robustness and quality of my first experience with Synology, I again opted for a Syno NAS server: The DS1821+.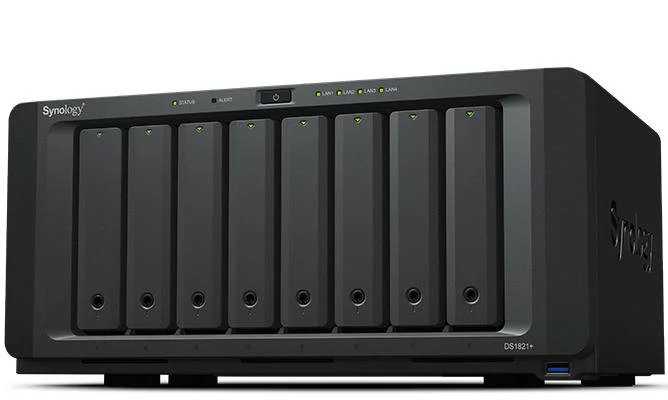 What to do with a NAS?
NAS means Network-attached storage. Basically, network storage. It's a computer connected to your network, which has a large amount of disk space and can be used for many things that I will try to list here. Obviously, one of the big advantages of NAS is that its storage space can be set to RAID, meaning made redundant so that, if a hard drive fails, no data is lost. And that is cool.
So what we can do with a NAS, obviously, is, above all, data storage. That is to say, backups (time machine or classic), but also as a file server in small businesses or for individuals who want to share documents with the whole family and unclog their office computer, and obviously not to lose any data.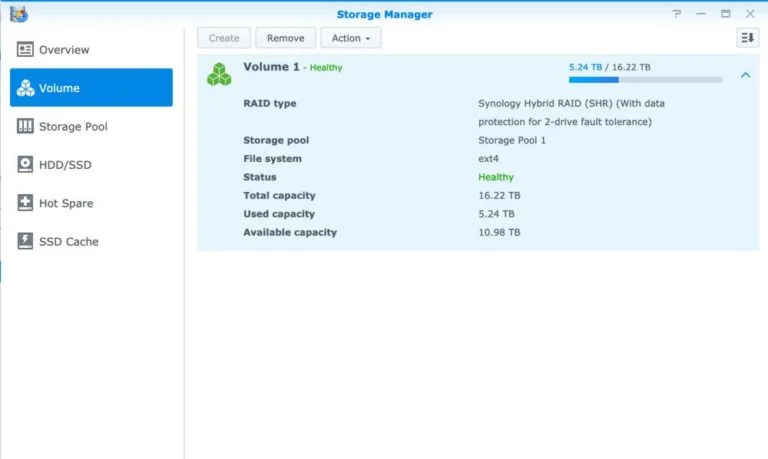 Data security on Synology NAS
Beyond that, today, we can do many super cool things with a NAS without getting our hands dirty.
For example, we can make it a download station that will automatically retrieve for you the latest torrents retrieved manually or through an RSS feed. You can go a little further by installing Plex or something like that to make it your streaming service. The same thing with music and MP3s.
You can also use it for video surveillance by connecting your IP cameras, storing all your photos, but also hosting sites or services to develop a self-hosted alternative to the cloud, etc., for your emails, for example, or to replace Google Docs and that kind of thing. And if you are a developer, you can obviously use it as a Git repository but also as a test server for deploying your code.
Not to mention the fact that today, NAS also supports Docker, which allows you to deploy anything and everything in terms of applications without any hassle, thanks to virtualization.
What type of NAS to choose?
So, I will talk a lot about Synology for several reasons. First of all, it's the gear I know best. It is also one of the most robust brands in terms of equipment and the most reliable in terms of software. It runs like a Swiss clock.
But you can obviously be interested in other brands like the Qnap NAS, which are also very good, or if you like to tinker, recycle an old PC and install TrueNAS on it to make your DIY NAS. I did not opt for this last option, which, although economical, requires a lot of time to choose the right equipment, put everything in place, and especially in maintenance over time to ensure the security of my data.
Basically, with Synology, I pay a little more, but I don't have to worry.
Which storage to choose?
I've been discussing RAID for a while now, but a quick explanation is in order. RAID (for Redundant Array of Independent Disks) is a data storage technology that combines multiple hard drives into a single storage space. Different types of RAIDs offer different levels of performance, storage capacity, and reliability.
I will only present RAIDs that offer data redundancy. RAID 0 and JBOD don't offer redundancy, so it's not great.
RAID 1: This one is simple. The data is written identically on both hard drives simultaneously. This is called data mirroring.
RAID 5: RAID 5 allows data to be distributed across a minimum of 3 hard drives and to calculate parity data, which will be equally distributed across all hard drives belonging to the disk array. So it is possible with two intact disks to reconstruct a 3rd from the parity data. Less wasted disk space than RAID 1 and faster access times. To do RAID 5, you will need at least three hard drives.
RAID 6: Same as RAID 5, but with two layers of parity, it is possible to support the simultaneous failure of 2 hard drives maximum. To do RAID 6, you will need at least four hard drives.
RAID 10: RAID 10 provides performance equivalent to RAID 0 and the level of data protection of RAID 1, by combining hard drives into groups of two in which data is mirrored.
RAID F1: We are here for a slightly more specific need, equivalent to RAID 5, except that the parity data is written more on a particular disk to avoid premature disk aging. It is a RAID system for use on systems using Flash disks.
Now, Synology offers its format called SHR for Synology Hybrid RAID. This is the one I opted for because it has certain advantages that I will present to you.
About the SHR/SHR-2
SHR allows you to combine hard drives of different sizes and models, allowing you to gradually expand disk space without breaking the bank. SHR also provides optimized capacity and performance with less wasted space. Depending on the number of hard drives you have, it can support 1 to 2 failing drives simultaneously.
To simplify things, SHR is the equivalent of RAID 5, usable from 3 disks, with excellent performance, flexibility, and tolerance of a single failure. SHR-2 is the equivalent of RAID 6, from 4 hard drives, therefore tolerant of 2 simultaneous failures.
If you are hesitating between the SHR and the SHR-2, opt for the SHR-2, which provides better data protection and much faster access performance. So, consider it if you want to access the NAS remotely. Afterward, regarding storage optimization and wasted space for redundancy, SHR and SHR-2 are equal.
Personally, I, therefore, recommend this SHR/SHR-2 format because it allows you to mix different types of hard drives; it is an easy-to-expand RAID, as fast as RAID-5 and RAID-6; the redundancy is well managed, so very little "wasted" space, and cherry on top, if a disk fails, your data remains accessible.
In short, I strongly recommend using this storage format if you opt for a Synology.
If you want to better understand the differences between RAIDs, I invite you to play with the Synology simulator, which allows you to choose hard drives and a RAID format and thus estimate the different spaces occupied for the protection or storage of RAID data.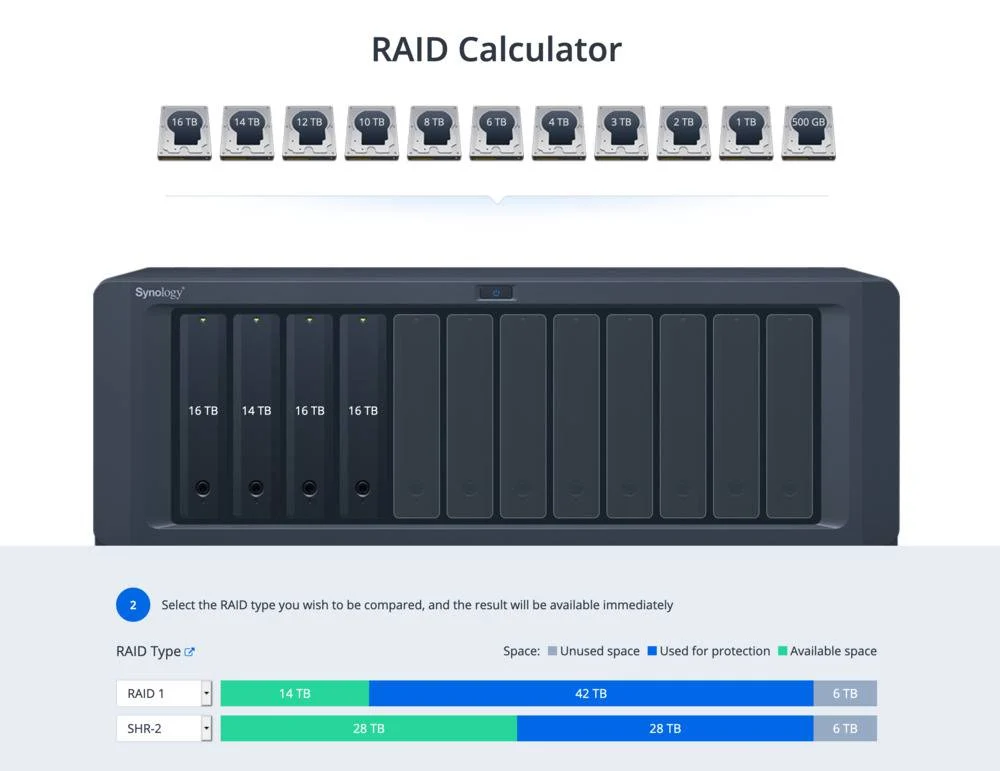 The criteria for choosing a Synology
There are many Synology models, and choosing is not always very easy. They have two types of NAS: Rackmounts that can be put in a bay for businesses (FS, SA, RS range) and Desktop NAS for SMEs and the general public in the DS range.
I will only focus on this last range. At Synology, they have a lot of models, and it's not necessarily easy to know which one to choose. So, I will help you by reviewing the main criteria.
Criterion No. 1: The number of bays
The bays are the places to put the hard drives. The more there are, the more secure your data will be because it is redundant correctly, and the more storage space you can achieve. Synology, for example, offers 2 NAS with a single bay, The DS120j and the DS118, which do not offer security for preserving your data. If the hard drive inside fails, you lose your data. Avoid these unless you only want an application server and have another way to keep your data secure.
If you switch to a two-bay, you can have RAID 1 maximum, which consists of having the same data on both hard drives. So, if one disk fails, the data remains accessible on the other.
Beyond two bays, it becomes interesting because we can have more optimal redundancy depending on the RAID chosen. On Desktop, you can mount up to 12 bays natively and beyond with extensions.
Criterion No. 2: Machine performance
Depending on your budget and what you want to do with a NAS, you must opt for a more or less efficient machine. Synology offers Desktop NAS with a 2-core or 4-core CPU, RAM that starts at 2 GB and is mostly expandable without too many problems. Certain models like the DS420+, the DS920+, the DS1520+, or even the DS1821+ allow the addition of M.2 NVMe to have SSD cache on the NAS and thus accelerate read and write access times. It's great!
Criterion No. 3: Network speed
If you opt for a powerful machine with a slow or poor local network, you risk having degraded performance. So remember to update your local network if necessary and then look at the different models offered by Synology, which have 2 to 4 RJ45 ports at 1 GbE, allowing for aggregation and network access times.
There you go; beyond that, the rest is details, namely the number of decibels of the machine, its consumption, its weight, etc. There are, of course, technical sheets for each of the models on the Synology website.
Synology features
Overall, in terms of functionality, all models are the same since there is Disk Station Manager (DSM), the Synology operating system, which allows you to take advantage of Synology tools and many other self-accommodation classics.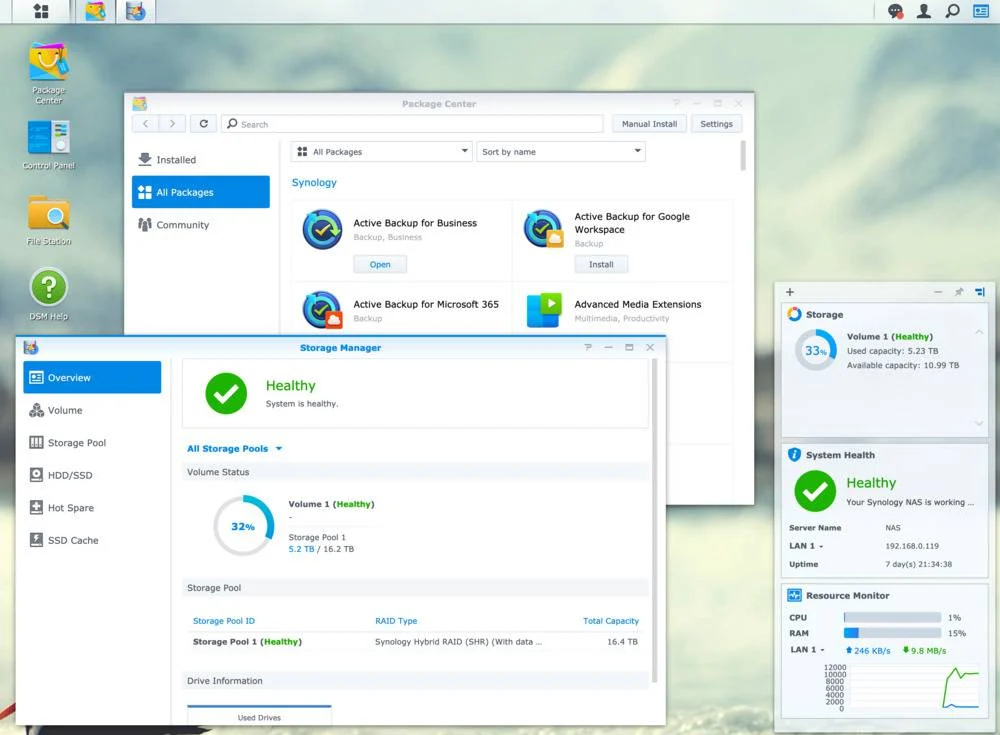 Compare Synology NAS models.
Natively, DSM, therefore, allows you to do the:
Fast and secure file sharing, including File Station, which allows you to share your documents by choosing access rights, both locally and remotely, through a variety of supported protocols such as FTP, SMB2, SMB3 (encrypted), AFP, NFS, and WebDAV, on all OS. A "recycle bin" feature even allows you to recover files during accidental deletion.
File synchronization with Synology Drive works like a Dropbox or a self-hosted Google Drive with a small desktop or mobile application, which goes well. But also using Cloud Sync allows you to synchronize your NAS with your online cloud services such as Amazon Drive, BackBlaze B2, Dropbox, Google Cloud Storage, Microsoft Azure, OpenStack Swift, etc.
Backup either native by copying files to a shared directory or from the Time Machine for those using macOS. But also complete backup of your physical and virtual machines with Synology's Active Backup tool. Synology also offers backup tools for your Microsoft 365 and Google Drive tools. This lets you keep a local copy of your data in the cloud.
Virtualization with everything you need to store and manage VMware, Citrix, Hyper-V, or OpenStack virtual machines and Docker support for your containers. Pay attention to the architecture of your NAS because if it is ARM, not everything will work at this level.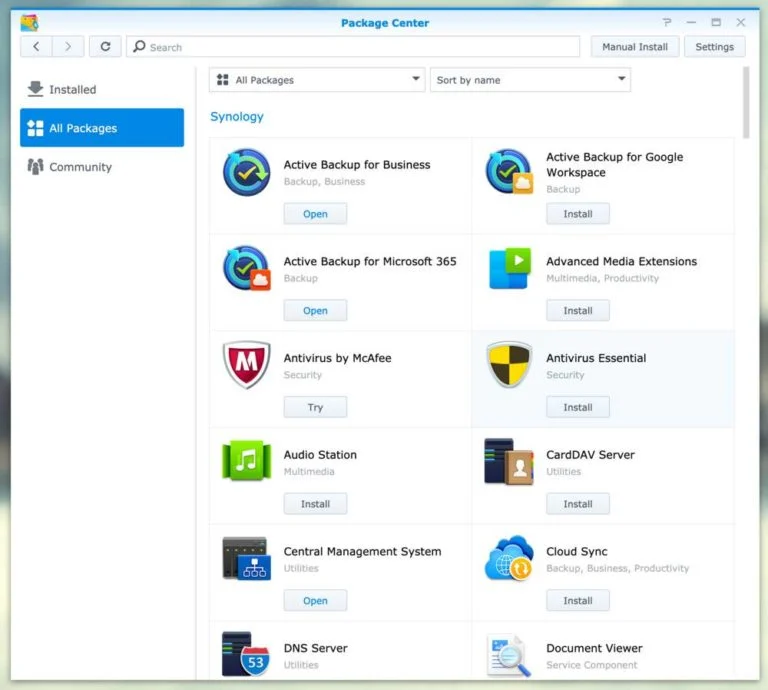 Backing up data with Synology NAS
Office tools for those who want to self-host certain aspects of their digital life without hassle or offer common solutions to their colleagues with tools like MailPlus for hosting mailboxes, Contacts to centralize contacts, a chat for discussions between users, the calendar to synchronize events, Synology Office to work together on documents without forgetting a note-taking system. All these tools are accessible through the web and with dedicated applications available in the stores.
Multimedia with managing your music library, photos, and videos without forgetting the possibility of downloading files or torrents directly from the NAS.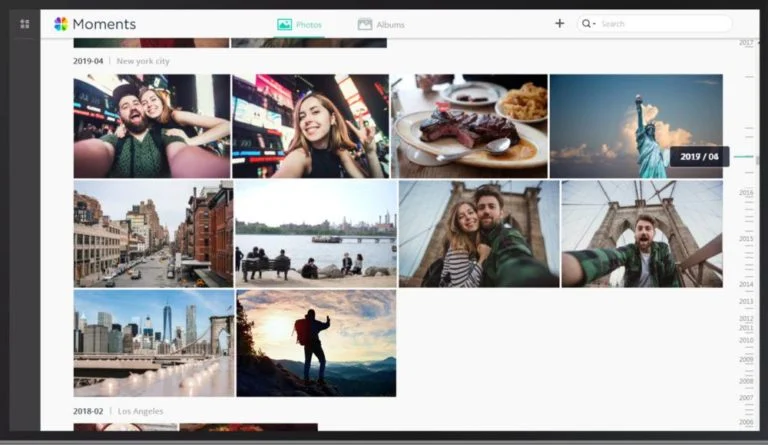 Install Synology apps
Remote access obviously to connect securely to your NAS even when you are not at home or in your business, particularly with QuickConnect. For those who want to host services, it is also possible to have dynamic DNS for those who change IP to always have an accessible domain name, even on a dynamic IP.
User management, of course, which will be useful if you intend your NAS for an SME or your family. So you can create user accounts, use your NAS as a domain controller, and offer limited or unlimited storage space to everyone and all Synology tools.
Security, because yes, it is super important, especially if you expose your NAS on the internet. Synology integrates several systems, strengthening the security of your NAS. From account protection (to prevent password brute-forcing, for example) to the firewall, including SSL, automatic blocking of suspicious IPs, and specific port routing to precisely expose only the necessary services. There are quite a few things, even an audit tool that scans your NAS for malware, suspicious things in the logs, and configuration issues that could compromise the security of your NAS.
Applications on DSM Apart from the applications officially supported by Synology, which I have already talked about and which you can install via the Package Center, it is also possible to add third-party repositories. To do this, go to "Settings" in the Package Center, then click the "Package Sources" tab. You can then add these repositories:
They will give you access to interesting alternative applications like Duplicity, Mutt, TVheadend, ZNC, Adminer, etc.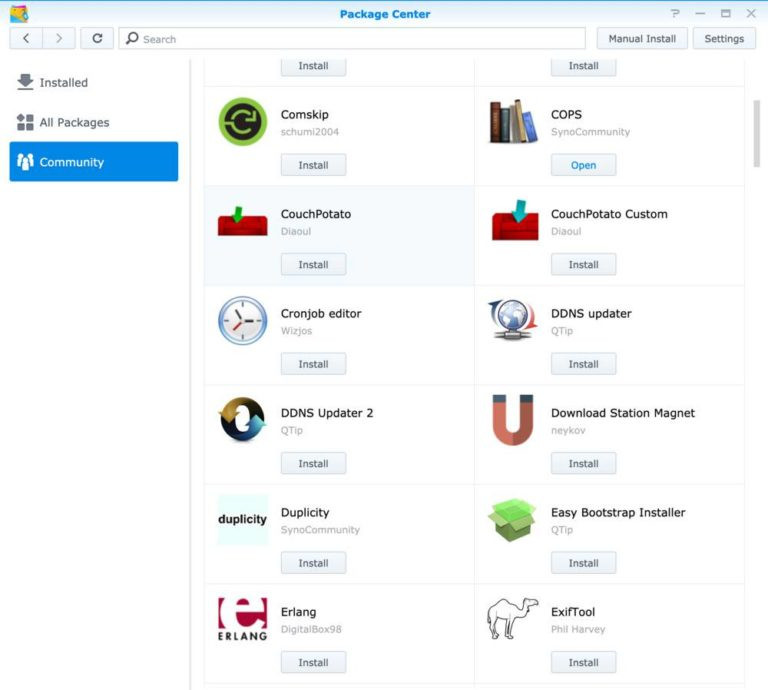 Storing Files with Synology NAS Which NAS model to choose?
So overall, in terms of functionality, all models are the same since there is DSM, the Synology operating system, which allows you to take advantage of Synology tools and a whole bunch of other software. Note that NASs are generally sold without a hard drive. In the rest of the article, I explain which hard drives to choose.
A cheap NAS
Here is a selection of 3 NAS that do the job well and whose price remains reasonable.
The DS220+: The Synology DS220+ is equipped with a 2-core processor clocked at 2 GHz, capable of going up to 2.9 GHz when necessary, particularly when streaming. It has 2 GB of RAM, 2 1 GbE network ports, and offers two bays for RAID 1. You will find it for less than 350 euros.
DS218Play: Synology DS218 Play is designed for multimedia, enabling seamless streaming across all your devices, whether at home or on the go. It, of course, handles file sharing and backups very well. It has a Quad-Core processor clocked at 1.4 GHz, two bays, good read/write rates on disks, a video decoding chip (H.265, MPEG 4, MPEG 2, VC-1, support for 4K, 60FPS max), 1 GB of RAM, USB ports, a 1 GbE RJ 45 port, and consumes little, especially when in standby. You will find it for less than 250 euros.
DS220j: The Synology DS220J is ideal for personal cloud. Quad-Core 1.4 GHz, RAID 1, 512 MB of RAM, two bays, one RJ 45 port at 1 GbE. It's quite similar to the DS218Play but without the media chip. It is, therefore, an excellent NAS for office automation and document storage. You will find it around 170 euros.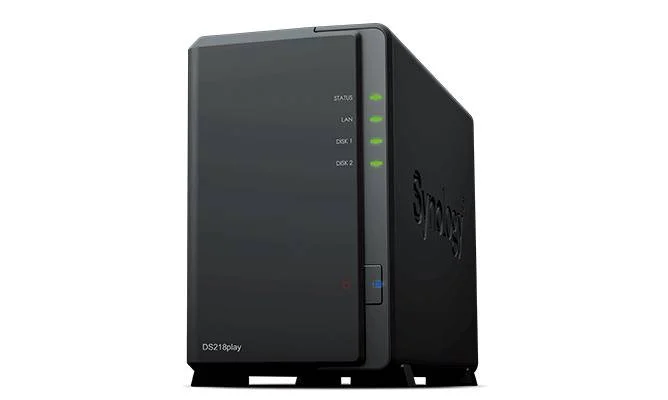 A powerful NAS
For those who want good performance with their NAS, I have selected these three models, which seem cool enough to me to be able to run demanding applications or Docker.
DS720+: The Synology DS720+ has an Intel Quad-Core processor capable of reaching a speed of 2.7 GHz when needed. It is also equipped with 2 GB of DDR 4 RAM, expandable to 6 GB. You can add two disks and 2 NVMe, greatly boosting your data's access times (read/write). You can find it for less than 760 euros.
DS920+: The Synology DS920+ is the same as the DS720+ but with four bays, which allows you to use SHR-2 and, therefore, have better redundancy for your data. You can find it for less than 580 euros.
DS1520+: The Synology DS1520+ is the same as the previous two, but with five bays and 8 GB of DDR 4 RAM, making it an even more efficient machine than the previous two. You will find it for less than 800 euros.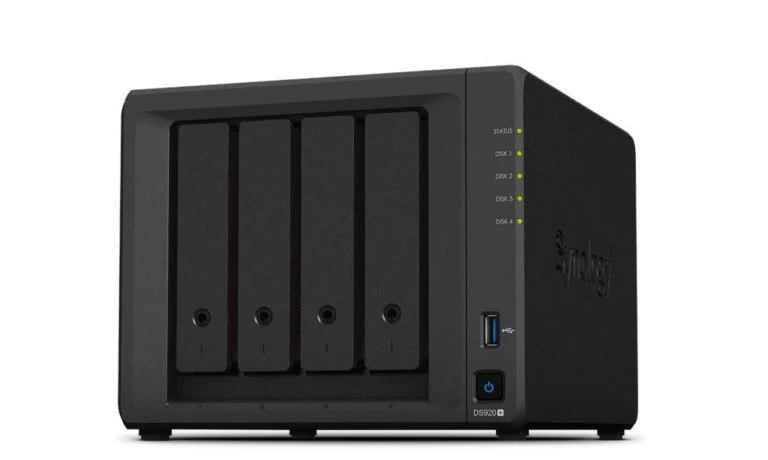 A NAS with plenty of storage space
For those who want terabytes and terabytes of free space to store many videos, photos, or documents or even have as many Docker machines as possible, I have selected two that seem interesting.
DS1621+: The Synology DS1621+ has an AMD Ryzen quad-core processor clocked at 2.2 GHz, 4 GB of RAM expandable to 32 GB, and six bays to house your hard drives. The icing on the cake is that this NAS has 2 NVMe slots for SSD cache and thus greatly speeds up reads/writes on the NAS. Regarding speed, you can aggregate up to 4 RJ45 links at 1 GbE, and the NAS also has 3 USB 3.2 ports and two eSATA ports to connect expansion bays. Thus, with two additional DX517 extensions, you can mount up to 16 disks. You will find it for just under 980 euros.
DS1821+: The Synology DS1821+ is the one I chose for my daily needs. It is identical to the DS1621+ except that it natively has more bays: 8 in total. It is also expandable with the ability to add 2 NVMe and 10 GbE support; if you add 2 DX517 expanders, you can mount up to 18 drives. You will find it for less than 1050 euros.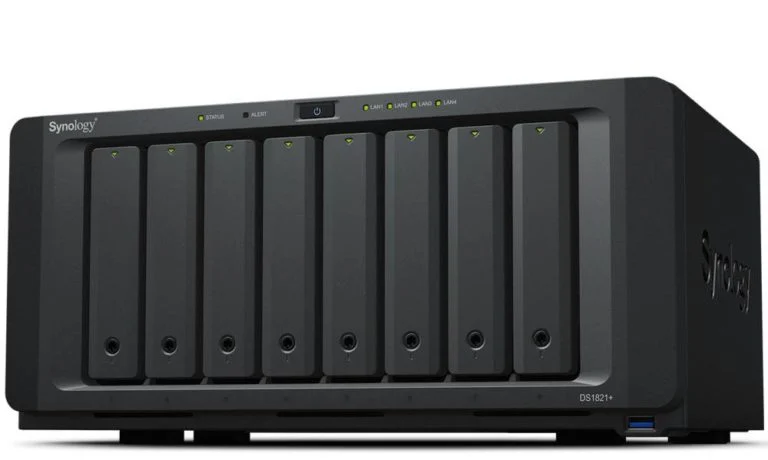 DX517: This is not a NAS but an expansion bay connecting via eSATA to your NAS. This is a good way to greatly expand the capabilities of a small NAS like the DS720+. You will find it for a little over 500 euros, which I still find quite expensive for an extension.
A good NAS that does a bit of all that
Now, if you can't decide and want a NAS with good performance, a little storage, and not too expensive, take a look at the DS4xxx series.
DS420+: The Synology DS420+ has everything a great one since it offers four bays, a 2-core processor capable
of going up to 2.9 GHz if necessary, 2 GB of RAM expandable to 6 GB, and two slots for NVMe. It's a good compromise. You will find it for less than 500 euros.
DS420j: The Synology DS420j is also entry-level with a 1.4 GHz quad-core processor, 1 GB of RAM, and four bays. It is quiet and designed more for multimedia uses. You will find it for a little over 300 euros.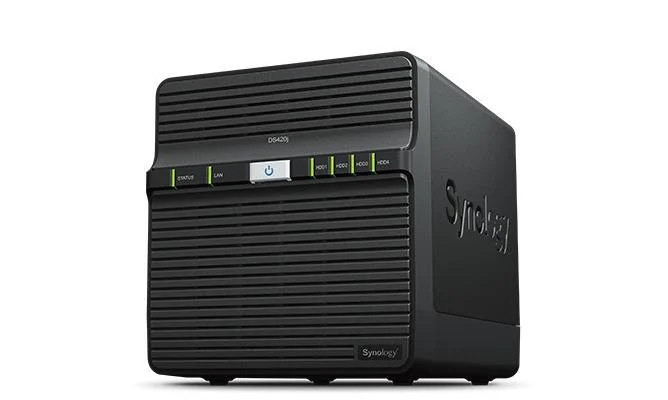 Migrating your Synology NAS
Concerning the data migration, for those wondering know that I went from a DS710+ in 2010 to a DS1821+ in 2021. I was a little afraid that it would be a hassle, but not at all. I simply put my drives from the old NAS back into the new NAS. It then detected the presence of my files and carried out a migration. All I had to do was wait. I even recovered my configuration with user accounts and all my settings. Eleven years later, it's magical!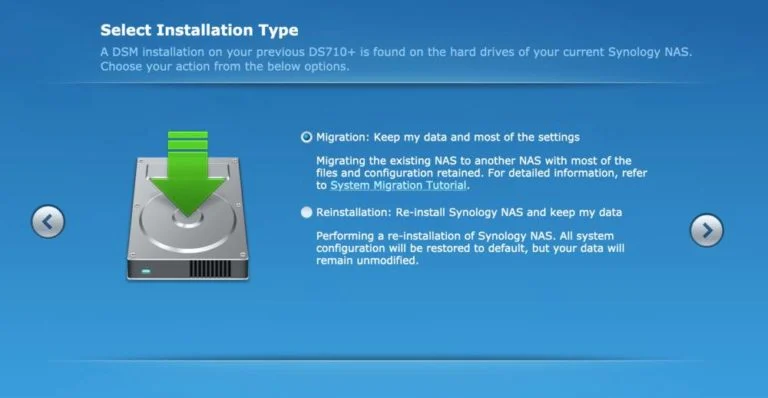 Data security on Synology NAS
Which hard drives should you choose for your NAS?
So you should know that even if you can put SSDs in a NAS, this is not very recommended at the moment because you risk destroying them. It's better to stick to the good old platter hard drives. Obviously, Synology's current NAS all run SATA, and since they can accommodate drives of different sizes, it's a good time to recycle old drives and gradually increase storage space by purchasing 4TB drives, 6TB, or more…
However, not all hard drives are equal; some give up the ghost faster than expected. Fortunately, Synology offers a tool to find the best drives for your NAS. Seagate, Toshiba, and even Western Digital are all there.
For my part, I have not tested Toshiba, but I have tested a lot of Seagate and Western Digital, and I must say that I have had no feedback in 11 years with Western Digital; while the Seagate, I returned a few for warranty. This is not a scientific study I am giving you here, just my personal experience, so I invite you to do your research. That said, now I only take drives designed for NAS, namely IronWolf from Seagate and Red Plus from Western Digital, which use CMR technology. I find their lifespan to be better than traditional discs. In fact, these NAS drives are designed to run 24/7 unlike traditional hard drives.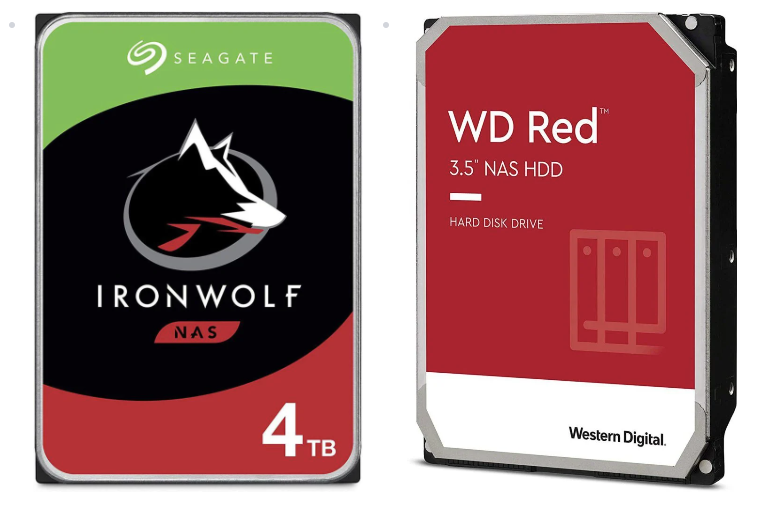 Hard drive turnover
You can imagine that hard drives break down more often when they are heavily used. It depends on the models, but in 11 years, I have had to change 5 or 6. And of this number, I believe 4 or 5 disks were still under warranty.
Because yes, few people know it, but hard drives have a fairly long warranty. 3 to 5 years, depending on the models. So turnover on a NAS, even if it is frequent, does not necessarily mean a disk in the trash and will not necessarily cost you more. Refer to this article to find out everything about manufacturer warranties.
Offsite backup
Be careful; a NAS at home is cool but not enough for your backups. If your house burns down or thieves take your computer equipment, you no longer have a backup. Now is the time to think about off-site backup. That is to say, outside your home. There are several methods for this. Put a second NAS elsewhere, in your family, for example, and configure replication between the 2 NAS. This can be done easily and natively with Synology. Either you go full cloud… And there are numerous solutions. The easiest to access and one of the least expensive is the solution Backblaze offers, which I also recommend.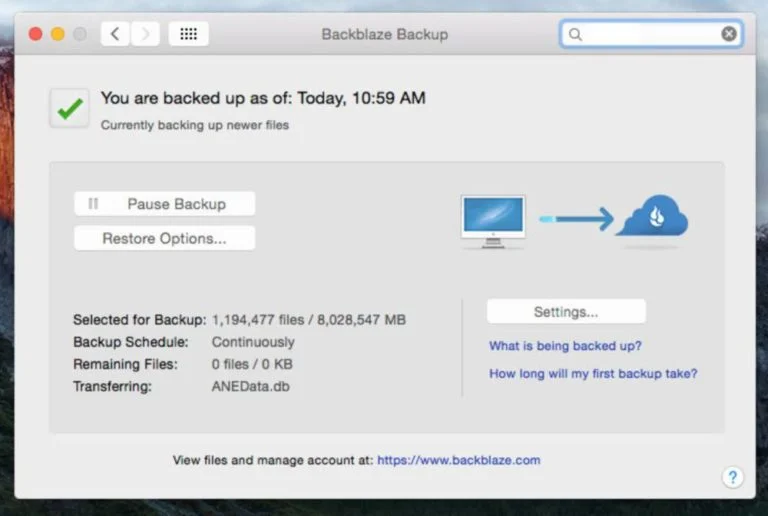 Install Synology apps
With Synology, you can even back up your NAS directly to Backblaze with the Hyper Backup tool, and that's royal.
In conclusion
Synology offers a fairly wide range of NAS, and there are a lot of models, so it's not easy to navigate, but I hope that with my article, you will see things more clearly. Whatever the case, once your budget and needs have been determined, you will inevitably find the shoe that suits you. It all comes down to the number of bays and performance. Otherwise, the OS and features remain the same on all models. Overall, Synology is quite expensive compared to other NAS brands, but you pay for the quality of the product, which will last over time. For my part, mine (DS710+ purchased in 2010) has never failed me and has worked almost without interruption for 11 years. I still plan to use it for other, more related things. I also paid quite a lot for it then, but ultimately, it has since largely paid for itself, so I am very happy with this choice.
There you go; I hope you enjoyed this overview of Synology NAS. See you tomorrow!