I've been using an old projector for a long time that I bought in 2015, and have repaired it several times. Despite being a bit noisy and not having 4K capability, it still gets the job done. So when XGIMI offered me the chance to test the HORIZON Pro, I accepted with curiosity to see all the developments in video projectors over the years. I must say, I wasn't disappointed. By the way, I've included a promo code at the end of the article that gives you a 200 euro discount on the device.
XGIMI is a brand that launched in 2013 and works with partners like Google, Harman Kardon, and Texas Instruments. Their focus is on "all-in-one entertainment devices," and their philosophy is "user-first," meaning they strive to create easy-to-use and effective products.
If you don't have a projector, let me tell you about my experience. I have a nice white wall at home, a comfortable sofa, and watching a movie on a big screen like in the cinema is a great pleasure.
I don't live near a multiplex, and the neighborhood cinema has a small screen. On top of that, people talk during the movie, grandmothers light up the room with their smartphones while looking for something in their handbags, and some people kick the seats with their knees. Not to mention the high ticket prices and the inability to pause the movie when you need to take a bathroom break.
As you can tell, I prefer the home projector experience over going to the cinema, and I use it exclusively for this purpose (not for everyday TV viewing).
We go to the test!
It has been a week since I traded my old cuckoo clock for the XGIMI HORIZON Pro, and I am thrilled with the quality of the experience. In fact, it is even better than I expected. This projector boasts a 4K optical engine and a resolution of 3840 x 2160, which translates to 8.29 million pixels.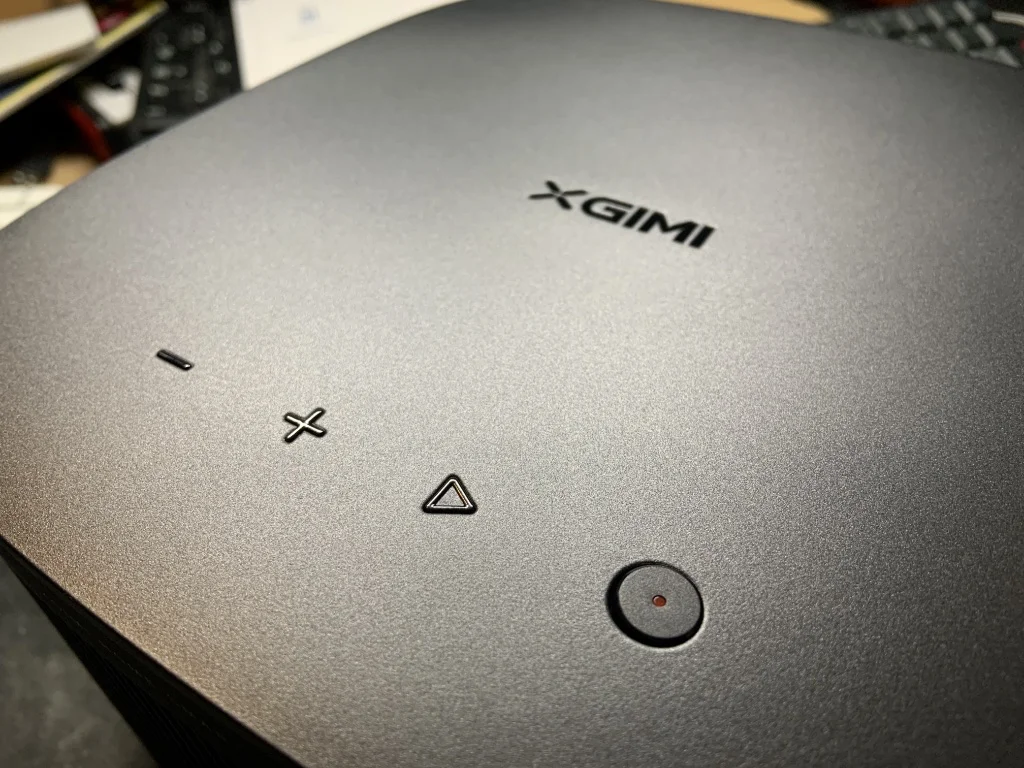 In other words, movies are even more enjoyable now, although I did discover that Netflix tried to trick me into upgrading to a higher-priced package for 4K. No thanks! 🙂
Usually, watching a movie on a projector during daylight hours is just okay. But with its brightness of 2200 ANSI lumens, it's perfectly doable and just as enjoyable as in the evening. Plus, if you're wondering what screen size corresponds to the HORIZON Pro's resolution, it's as if you had a 200-inch diagonal TV (i.e., 4.42 meters by 2.52 meters). That's absolutely massive, isn't it?

As you can tell, I was truly impressed by the quality of the image. I ran some tests with 4K videos, HDR-10 (for maximum contrast), and X-VUE 2.0, which provides incredible image rendering with bright colors, deep blacks, and even a reduction of the "noise" present in the image (plus increased clarity).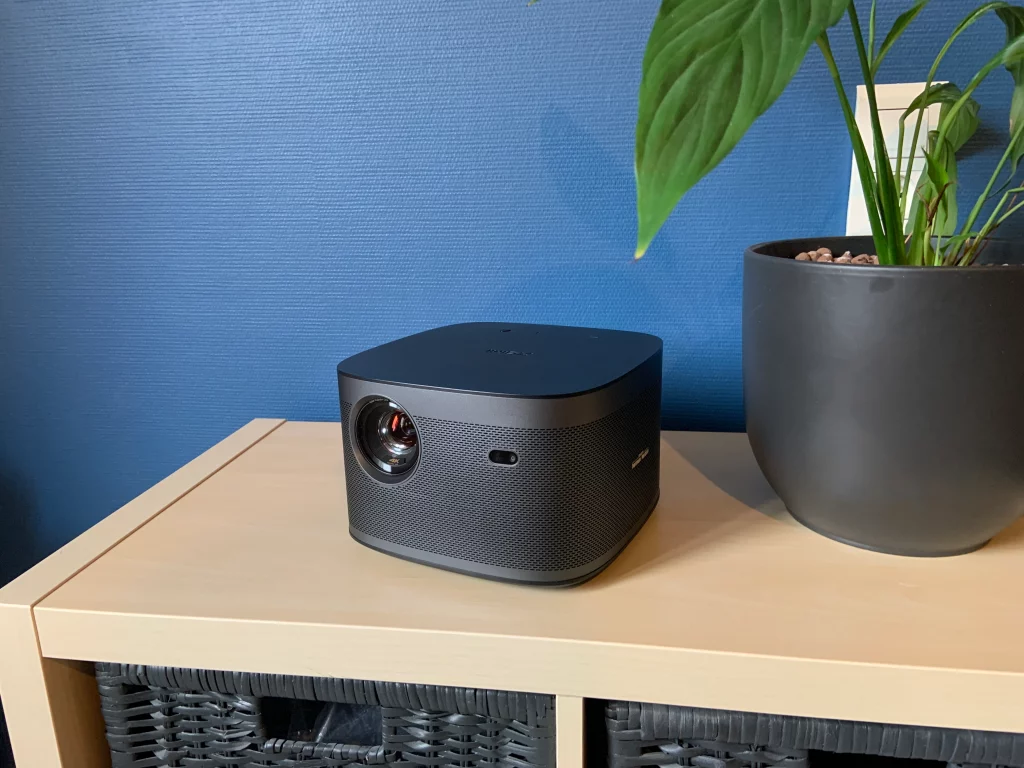 I had never heard of MEMC technology before, but it really improves the fluidity of the image, reduces latency, eliminates ghost images, and compensates for the loss of detail in the image. This is especially nice for fans of action movies or gamers, who will greatly benefit from an improved visual experience (and avoid nausea).
Moreover, even though I already wear glasses that filter blue light, I discovered that this projector reduces blue light natively, providing additional protection for your eyes.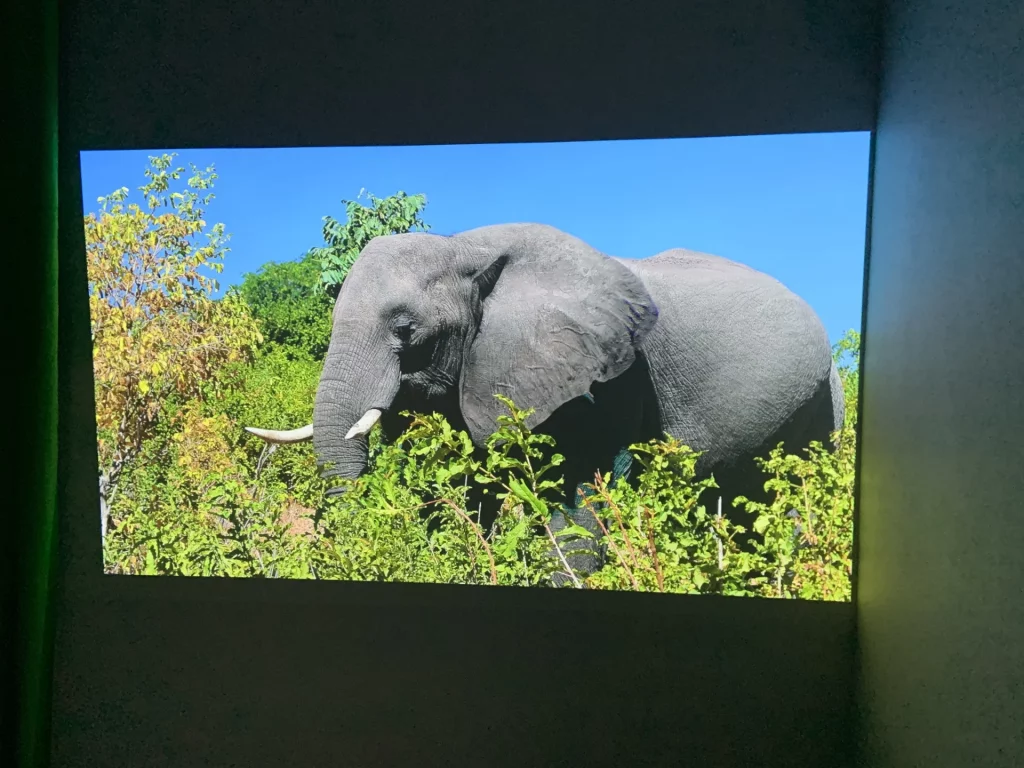 It adapts to all surfaces.
And above all, in terms of adjustment features, I really enjoyed using this new projector. Previously, I had to manually adjust the wheels to get the sharpness of the image right. However, with the Intelligent Screen Adaptation (ISA) technology equipped in this new projector, it can fully automatically focus and keystone correction. This is particularly useful if your projector is not facing your wall directly or if your wall is not straight. It even has a smart obstacle avoidance mode, which allows you to set the display to dodge objects such as a painting or a green plant on the wall.
In the demo, you can see the projector automatically adjusting to dodge the green screen and focus on its own. I could also adjust the projection angle with the remote control.
However, there is no adjustable foot for display height. So, you will need to get an adjustable tripod, a support, or a piece of furniture at the right height. I simply wedged a small book underneath to give it the right angle.
What I can tell you is that this projector is very quiet. Unlike other lower-quality video projectors, it doesn't sound like a wind tunnel. Additionally, it features a Harman Kardon audio system with 2 active broadband speakers of 8W each, which were developed specifically for this projector. As a result, I didn't need to connect speakers or put on headphones to enjoy DTS-HD cinema-quality sound and DTS Studio Sound, which are compatible with Dolby Digital.
And the software?
Regarding software, this projector runs on Android TV with access to Google Play. This means you can easily install a wide range of applications such as Molotov, Amazon Prime, Netflix, and Disney Plus, games, and apps like Spotify. Android TV also features an "OK Google" voice control system, allowing you to control the projector with voice commands. But if voice control isn't your thing, the projector comes with a plastic and metal remote control that has a good grip and is very easy to use. It's also heavy enough to prevent accidental knocking.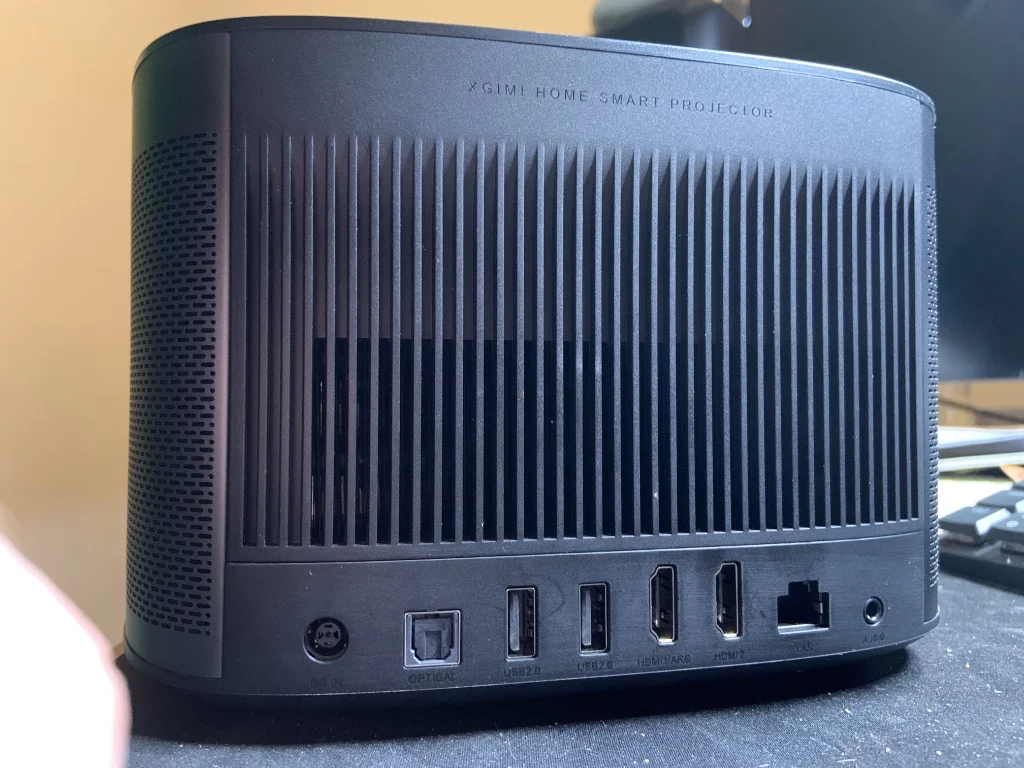 Gamers will be pleased to know that this projector has a "game" mode with a low latency of just 35ms. There's also a "3D" mode for those who enjoy playing Avatar or other 3D games with glasses. As for connectivity, this projector has it all – a DC port, 2 USB ports, 2 HDMI ports, 1 Ethernet port, 1 audio connector, an optical connector, Bluetooth 5.0, and WiFi connectivity to your router.
If you're interested, I highly recommend checking out the full features and technical specifications list to see everything this projector offers.