The web is full of images, whether photos, graphics, or illustrations. However, many image formats can sometimes make managing, sharing, or modifying these files difficult. Fortunately, simple software solutions today make converting images from one format to another easy. This is particularly the case with XL Converter, a free image conversion tool for Windows and Linux that stands out for its simplicity and efficiency.
XL Converter: Fast and easy-to-use image converter
XL Converter is free and open-source software developed by a certain JacobDev1. Its mission is simple: to allow the quick and easy conversion of your images into many formats.
The first impression when opening the XL Converter is undoubtedly its minimalist interface. No frills and the interface gets straight to the point. The user is prompted to drag and drop their images or select them via File Explorer.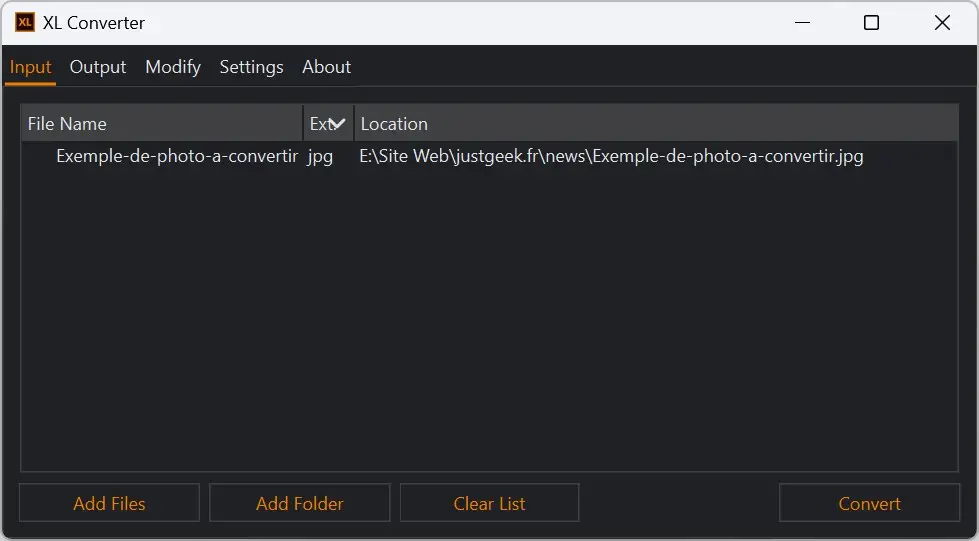 Once the images are loaded, choose the desired output format from a wide range, including standards such as JPEG XL, AVIF, WEBP, JPG, or PNG.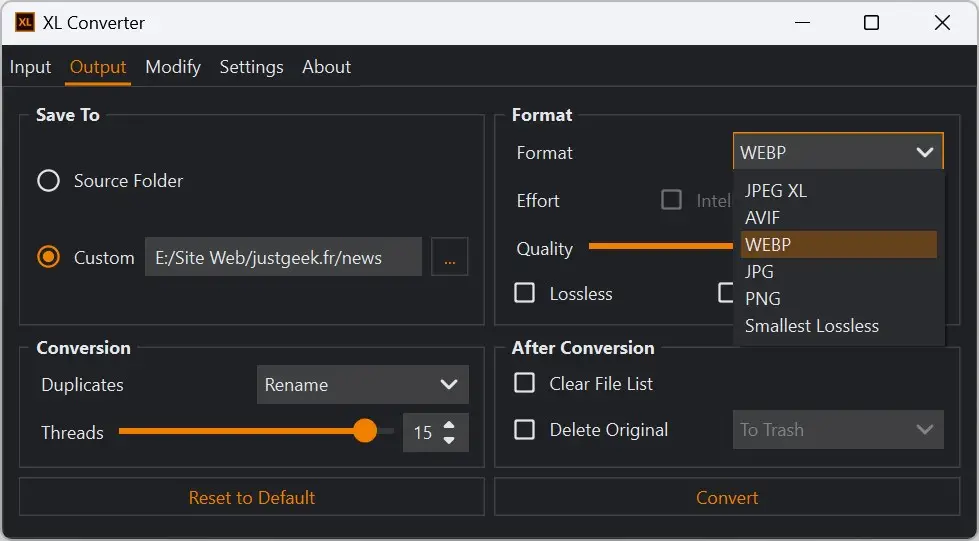 One of the significant advantages of XL Converter lies in its ability to manage multiple conversions simultaneously. Do you have a series of vacation photos in PNG that you want to convert to JPG to save storage space? No problem. Select the folder in question, choose the output format, and XL Converter takes care of the rest in the blink of an eye.
Conversion isn't the only area where XL Converter excels. The software also offers basic editing options. So you can adjust your images' scale and compression level before conversion.
To download XL Converter, go to the official project website: https://codepoems.eu/software/ and click on the "Windows" or "Linux" button (depending on your operating system). Installation is quick and requires no special skills. Once the software is installed on your machine, image conversion becomes child's play.
How to use XL Converter?
Download and install XL Converter software on your computer.
Then, launch the image conversion software.
In the "Input" tab, you have two options for adding images to convert:

Drag and drop your images directly into the software interface.
Or click the "Add Files" button to select individual image files or "Add Folder" to add an entire folder of images to convert.

Then click on the "Output" tab. Select the destination folder where you want to save the converted images. Choose the output format and adjust the quality according to your preference.
Finally, click the "Convert" button to convert your images or photos.
A progress bar will show you the progress of the conversion. Once finished, the converted images will be available in your specified output folder.
✅ With these simple steps, XL Converter quickly becomes indispensable for efficiently managing all your image conversions, saving you time while ensuring optimal quality.
Conclusion
In conclusion, XL Converter is a robust and user-friendly solution for anyone looking to convert images to other formats, such as JPEG XL, AVIF, WEBP, JPG, or PNG. Thanks to the open-source community, its clean interface, speed, and the possibility of customization make it a tool of choice for professionals and photography enthusiasts. For those looking for alternatives or add-ons, batch image conversion with Vovsoft Batch Image Converter is also worth exploring.