So, you've just installed the shiny new Windows 11, and you can't help but think it could be even better without all those pesky pre-installed apps from Microsoft hogging your memory in the background. Don't worry, my friends, because today I'm introducing you to BloatyNosy, the ultimate tool that will save your day and transform your PC into a true paradise!
BloatyNosy is like a superhero that simplifies all the configurations of Windows 11, conveniently packed into a single user-friendly interface. With just a few clicks, you can disable and instantly remove unnecessary features!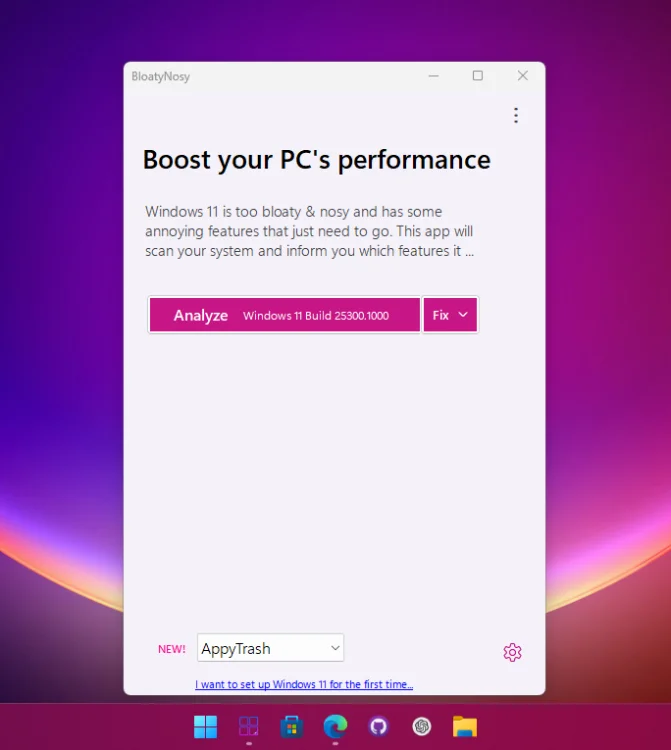 But what exactly does this software offer? Well, BloatyNosy comes in the form of several modules, which will continue to evolve, just like ThisIsWin11.
Here's what it includes:
BloatFinder: This tool acts as a professional detective, meticulously scanning your hard drive to uncover pre-installed apps that are weighing down Windows 11. You can effortlessly remove them either automatically or manually, depending on your preferences.
WinModder: For the hacking aces out there, WinModder gives you the power to launch small bits of PowerShell scripts, allowing you to personalize Windows 11 according to your liking, with scripts crafted by the community.
InstaPackage: Think of this module as a delicatessen where you can handpick and install all the trendiest applications with just one click. It simplifies the entire deployment process, making it a breeze.
You can download BloatyNosy from the GitHub releases page.
Getting started with BloatyNosy couldn't be easier. After installation, simply click "I want to configure Windows 11 for the first time" at the bottom right of the screen. A wizard will then guide you step by step to customize your system, unveiling all the hidden secrets of Windows 11.
And if you prefer to let BloatyNosy take charge from start to finish, that's also possible! It can manage unnecessary components, leaving you with the cleanest version of Windows 11.
Discover more about BloatyNosy here.