Handheld gaming consoles have come a long way, offering powerful hardware and a portable gaming experience. The ASUS ROG Ally and the Valve Steam Deck are two prominent contenders in the market. Both devices boast impressive specifications and aim to provide an exceptional gaming experience on the go. In this comparison, we will delve into the features, performance, and other aspects of these handheld consoles to help you decide which one suits your gaming needs better.
Technical sheets
Valve Steam Deck
Asus ROG Ally
Finishes and Colors
– Plastic finish
– Black
– Plastic finish
– White
Screen
– 7 inch diagonal
– From brilliant IPS
– Full HD definition of 1280 x 800 pixels
– Format: 16:10
– Refresh rate: 60Hz
– 400 nits brightness
– 7 inch diagonal
– From brilliant IPS
– Full HD definition of 1920 x 1080 pixels
– Format: 16:9
– Refresh rate: 120Hz
– Response time: 7ms
– 1000:1 contrast ratio
– 500 nits brightness
– 100% sRGB
– Corning Gorilla Glass Protection
– Corning DXC Coating
Chip
– AMD Ryzen (Van Gogh)
– CPU AMD Zen4
– GPU AMD RDNA 2
– AMD Ryzen Z1 Extreme
– CPU AMD Zen4
– GPU AMD RDNA 3
RAM
– 16 Go LPDDR5
– 16 Go LPDDR5
Storage
– 64 Go eMMC
– 256 Go NVMe ((PCIe Gen 3 x4 ou PCIe Gen 3 x2)
– 512 Go NVMe ((PCIe Gen 3 x4 ou PCIe Gen 3 x2)
– 512 Go PCIe Gen4
Audio
– Stereo speakers
– 2x1W stereo speakers
– Dolby Atmos
– Micro
Connectors
– 1 port USB Type C, Display Port 1.4
– MicroSD UHS-1 card reader
– 1 prise jack 3,5mm
– Wi-Fi 5
– Bluetooth 5.0
– Gyro Support
– 1 port ROG XG Mobile
– 1 port USB Type C USB 3.2 Gen 2, Display Port 1.4
– MicroSD UHS-2 card reader
– 1 prise jack 3,5mm
– Wi-Fi 6E
– Bluetooth 5.2
– Gyro Support
Handcuffs
– 2 analog sticks
– 2 x 32.5mm square trackpads with haptic feedback
– Boutons A B X Y
– Directional cross
– Left and right analog triggers
– High left and right triggers
– View and Menu buttons
– 4 assignable handle buttons
– 2 analog sticks
– 1 D-Pad
– View and Menu buttons (like on an Xbox)
– Boutons A, B, X, Y
– Boutons LB, LT, RB, RT
– M1, M2 rear buttons
– Bouton Asus Command Center
– Bouton Asus Armoury Crate
Biometrics
– Fingerprint reader (power button)
Battery
– 40 Wh battery
– 45W PD power adapter
– 40 Wh lithium-polymer battery
– 65W PD power adapter
Operating system
– SteamOS 3.0 (I based it on Arch)
– Plasma de KDE
– Windows (Windows 11 Home at launch)
Dimensions
– 298 x 117 x 49 mm
– 669 g
– 280,44 x 111,18 x 21,22 mm
– 608 g
Prix
– 419 euros (64 Go)
– 549 euros (256 Go)
– 679 euros (512 Go)
– 799 euros
Availability
– February 25, 2022
– June 13, 2023
Design:
XXL Portable Consoles The Steam Deck and the ROG Ally are portable consoles that cannot be ignored. If you already find the Switch (OLED) bulky, Valve and ASUS take it to the next level. This is because these devices originate from the PC and belong to a new hybrid category.
At Valve, the Steam Deck measures 298 x 117 x 49 mm and weighs 669 grams. It is a substantial device, and this larger form factor offers certain advantages, particularly in terms of grip. It closely resembles a traditional gamepad, enabling Valve to provide a comprehensive interface. With buttons, analog sticks, trackpads, triggers, and handle buttons, everything is included to allow players to enjoy as many PC games as possible on their console.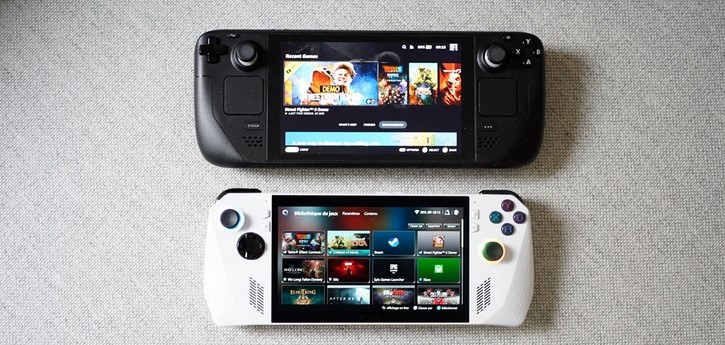 Its competitor, ASUS, has also adopted this format popularized by the Switch but with more compact dimensions. The ROG Ally measures 280.44 x 111.18 x 21.22 mm and weighs 608 grams, bringing it closer to a traditional game console. When looking at the design of the ROG Ally, it's difficult not to draw a parallel with the Xbox controller. It features two analog sticks positioned asymmetrically, action buttons (A, B, X, Y), a directional cross, front function keys, triggers on the upper face, and shortened back buttons.
Regarding ergonomics, the ASUS ROG Ally is easier to hold due to its controller-like appearance. However, the Steam Deck doesn't fall short, offering greater versatility, which can make a difference in the overall gaming experience.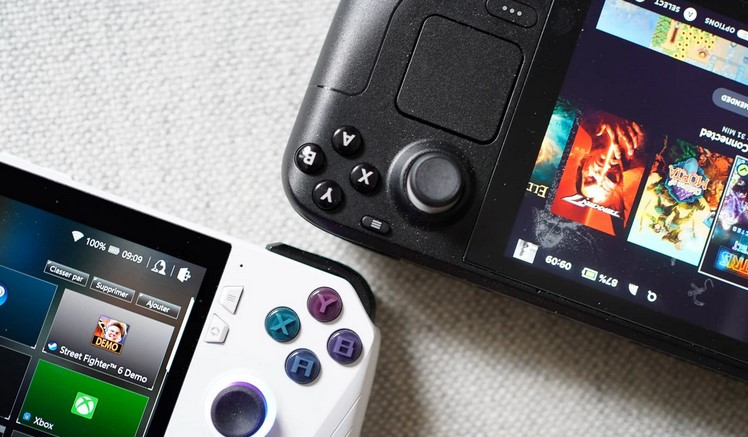 Screen: An Unbalanced 7-Inch Battle
The two consoles take very different approaches to their screens, and it becomes evident that there isn't a fair match between them. The Steam Deck features a 7-inch IPS (LCD) panel with a resolution of 1280 x 800 in a 16:10 aspect ratio. The display offers a standard 60Hz refresh rate and has a brightness of 400 nits. The 64GB and 256GB models come with a simple glass coating, while the 512GB variant benefits from a glass coating with an anti-reflective treatment.
On the other hand, the ROG Ally also sports a 7-inch IPS (LCD) panel with a higher resolution of 1920 x 1080 pixels in a 16:9 aspect ratio. One significant difference is the presence of a 120Hz refresh rate on the ROG Ally, which also supports Variable Refresh Rate (VRR) to adjust the rate according to the displayed content. ASUS emphasizes a response time of 7ms and mentions a maximum brightness of 500 nits. To add to its features, the ROG Ally's touch screen is protected by Corning Gorilla Glass Victus.
Regarding screen quality, the ROG Ally clearly outshines the Steam Deck with its higher resolution, faster refresh rate, VRR support, lower response time, and enhanced touchscreen protection provided by Corning Gorilla Glass Victus.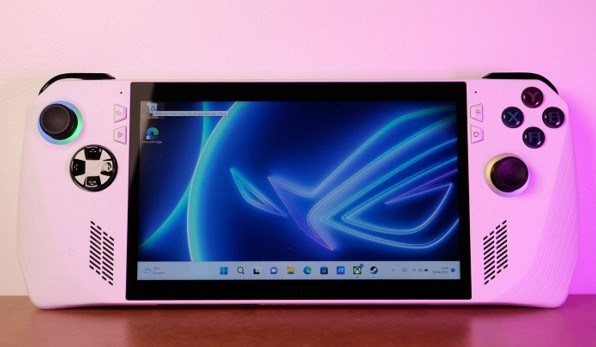 Winner: ASUS ROG Ally. There is no debate in this category; the ROG Ally outperforms the Steam Deck in every way, especially when it comes to the screen. With its Full HD resolution and 120Hz refresh rate, the ROG Ally clearly takes the lead.
Performance: Power and Optimizations
Both consoles are powered by AMD, much like ninth-generation home consoles. Valve has even partnered with AMD to integrate a custom APU in the Steam Deck. This APU consists of 4 Zen 2 CPU cores (8 threads) with a variable clock frequency ranging between 2.4 and 3.5 GHz. The GPU component comprises 8 RDNA 2 compute units clocked between 1 and 1.6 GHz.
Valve offers several versions of the Steam Deck, including a 64 GB variant in eMMC format. However, this particular version is not the most efficient, and it is advisable to consider the 256 GB or 512 GB SSD variants, which utilize a PCIe Gen 3.0 interface. As games grow, it will be possible to expand storage using a microSD card (we recommend selecting a sufficiently fast card). The player has 16 GB of LPDDR5 RAM regardless of storage capacity.
Regarding performance and specifications, the ROG Ally offers a more powerful and optimized setup than the Steam Deck.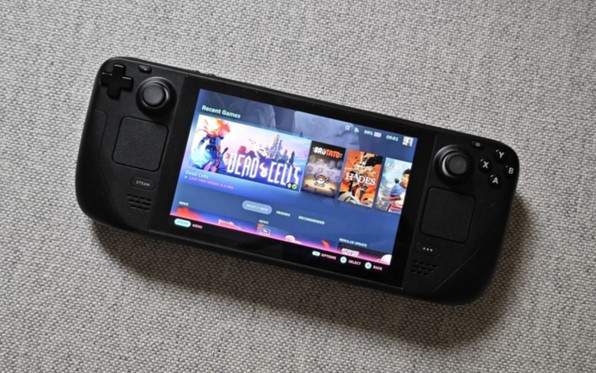 Finally, it is possible to switch to 10 W or 15 W modes, and this will necessarily have an impact on performance and autonomy.
ROG Ally: The PC gamer goes mobile
The ASUS Rog Ally has a newer and more modern base than the Steam Deck. AMD remains the preferred partner for this type of machine due to its know-how in the field and its lead over its competitors. Inside, we find an all-in-one Ryzen Z1 Extrem chip, consisting of an 8-core, 16-thread Zen 4 CPU base (up to 5.10 GHz boost) and a 12-unit RDNA GPU part for computing (up to 2.7 GHz).
Asus adds a unique 512 GB configuration for storage (SSD) in PCIe 4.0 and 16 GB of LPDDR5 RAM. It is still possible to use a microSD extension. The console offers different performance modes: 9 W, 15 W, 25 W, and 30 W.
Winner ASUS ROG Ally (but!)
More recently, the ASUS ROG Ally uses a solid and far superior base compared to its rival of the day. Nonetheless, the Steam Deck offers honorable performance, and the choice will be specially made if you aim for 1080p.
Operating system: SteamOS vs. Windows 11
As we explained previously, these machines are portable consoles of a new kind. While the Switch claims a hybrid approach by offering a portable TV (or tabletop) experience, here we are in the presence of portable PCs in the body of portable consoles, and this is even more true for the ROG Ally.
Indeed, the Asus solution should really be considered as a gamer PC under Windows 11 in a portable console format. This approach makes the ROG Ally versatile since it can technically run all PC games. It's quite an advantage, except the operating system is uncomfortable on a small 7-inch screen. Aware of this drawback, Asus integrates a kind of overlay called Armory Crate SE to make the user experience more pleasant. However, we still feel that Asus is trying to hide an unsuitable Windows interface that will regularly appear during use."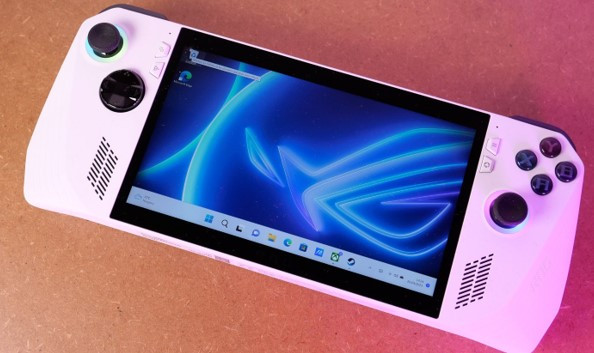 The Steam Deck distinguishes itself from its competitors by offering SteamOS, which is nothing less than a GNU/Linux distribution designed by Valve for its machines. Having control over the system that powers the Steam Deck is an undeniable advantage in terms of user experience. The interface is adapted to the small 7-inch screen of the device, allowing players to easily navigate and access the various features. Furthermore, while the system is user-friendly, hackers will still have the means to access additional functions.
However, it's important to note that no system is perfect. While there may be a clear distinction between an operating system dedicated to gaming like SteamOS and a more generic Windows 11, not everything is flawless on the Steam Deck either.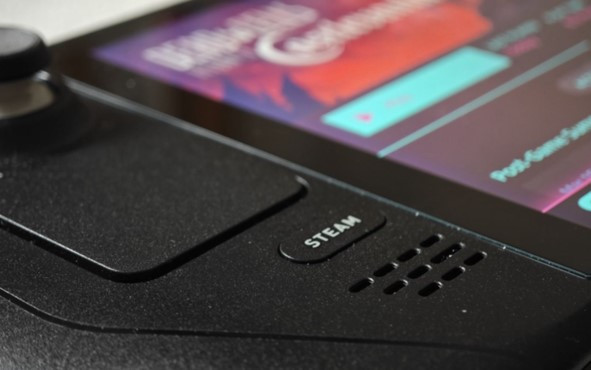 The Steam Deck system is based on Arch Linux and relies on Proton to run Windows games on Linux. However, despite Valve's efforts, this tool is incompatible with all PC games. Additionally, certain anti-cheat measures may still pose limitations. Therefore, it is advisable to check if your favorite games are fully compatible before deciding. Furthermore, Valve emphasizes using the Steam platform, and accessing other launchers such as Epic Games or GOG may not be as straightforward. However, for more tech-savvy users, it is still possible.
Winner: Valve Steam Deck (but!)
It is challenging to determine a clear winner as the approaches of the two consoles are so different. Nonetheless, we give the point to the Valve machine due to its significant optimizations and more pleasant user experience. On the flip side, this means you have to appreciate the Steam ecosystem and be willing to deal with certain limitations imposed by Proton.
Under Windows 11, the ROG Ally has an essential gaming operating system. However, it may not be the most suitable choice for this type of machine, and some customization may be required. The advantage of using Windows 11 is greater freedom and compatibility with almost all PC titles.
Autonomy: Short Battery Life
This is a weak point for both machines, and it is not necessarily the fault of Valve or Asus. Both manufacturers offer powerful configurations for demanding 3D games and feature batteries with the same capacity of 40 Wh. However, the lack of advancement in battery technology significantly affects the performance of such machines. As portable PC gamers are well aware, the machine's true potential is only realized when it is plugged into a power source. Unfortunately, this is impossible with the Steam Deck and ROG Ally, as they are designed for gaming in portable mode, negatively impacting battery life.
Unlike Nintendo, which provides fairly precise estimates of console battery life, it is challenging to provide the same level of certainty for the Steam Deck or ROG Ally. Manufacturers also tend to avoid making specific claims, with Valve mentioning "several hours of battery life with most games." They even state "about 7 to 8 hours" for less demanding uses, such as 2D games. The actual duration of use depends on various factors, including the game being played and the chosen performance mode.
In any case, bringing your charger if you plan on using the consoles for an extended period is advisable. Additionally, optimizing settings and modes can help maximize battery life.
Draw: Despite being portable, both consoles do not excel in terms of battery life. Regardless of your choice, it is recommended not to forget your charger.
Price
Valve offers more flexibility by providing three different configurations for the Steam Deck, starting at 419 euros. This includes a model with 64 GB of eMMC storage and a carrying case. Upgrading to the 256 GB (NVMe SSD) version costs 549 euros, while the 512 GB (NVMe SSD) version costs 679 euros. The higher-priced model has additional advantages, such as a glass display with anti-reflective treatment.
On the other hand, the Asus ROG Ally is available in a single configuration priced at 799.99 euros. It features 512 GB of storage, which can be compared to the Steam Deck's 512 GB storage variant priced at 679 euros. There is a 120 euro difference between the two consoles, and it is a bit disappointing that the ROG Ally does not include a carrying case.
Advantage: Valve Steam Deck
The Steam Deck takes the advantage by offering three variants, including an entry-level option starting at 419 euros. While the ROG Ally doesn't compete at this price point, costing close to 800 euros, it does offer several technical improvements compared to the Steam Deck's 512 GB model. Therefore, the price difference of 120 euros seems justified for the enhancements provided by the Asus console.
Our Opinion
In conclusion, we have reached the end of this comparison between two highly-discussed consoles. The choice between them depends on various factors. While their purpose is the same—to play our favorite video games—it is evident that the two machines are more different than they may initially seem. As we mentioned in our ROG Ally test, it is challenging to draw definitive conclusions for a product belonging to a new category still evolving. However, it is reassuring to see Valve's continuous efforts in offering regular updates to improve the user experience.
This is a positive sign for players, but it also highlights that these consoles still lack maturity upon their initial release. They still have numerous growing pains; in this regard, the Steam Deck has a slight advantage. Launched in 2022, it provides good performance and offers a more tailored user experience with its SteamOS environment, which aligns better with expectations for a portable console. The Steam Deck appears more suitable for players seeking an efficient and affordable portable console.
The Valve console starts at 419 euros in its entry-level version, making it a viable option for console players who don't mind the transition. On the other hand, the ROG Ally holds its own, offering an interesting proposition in many aspects. It delivers better performance within this form factor, featuring a superior screen compared to its direct competitor. It is recommended primarily for gamers with PC experience and a more "geek" audience. The strength and weakness of the Asus machine undoubtedly lie in its compatibility with Windows.
Ultimately, the decision between the two consoles depends on individual preferences, gaming needs, and budget. It's essential to weigh the advantages and limitations of each and choose the one that aligns best with your gaming priorities.