Some time ago, I discovered a program that could potentially change your life as a Windows user. It's called SoundSwitch, and it's a magical little tool that enables you to swiftly switch between audio devices using hotkeys.
To activate SoundSwitch, simply use the default shortcut. No more navigating through tedious screens to change your audio settings.
Once SoundSwitch is configured, you can utilize the following shortcut keys:
🔊 To cycle through playback devices, press Ctrl + Alt + F11 or double-click the SoundSwitch icon in the system tray.
🎙 To cycle through recording devices, press Ctrl + Alt + F7.
🔇 To mute the default microphone, press Ctrl + Alt + M.
For video game enthusiasts, this tool is a true delight. Imagine yourself amid a game, needing to switch the audio output from headphones to speakers or vice versa. You don't have time to get lost in system settings. SoundSwitch provides you with seamless switching using a simple key combination. The same applies to changing the recording device, such as your microphone.
But that's not all; SoundSwitch is multilingual, supporting languages such as English, French, German, Spanish, Portuguese, Italian, and Chinese. If you want it in your native language, you can contribute to the project and assist with its translation.
SoundSwitch offers various notification options to inform you of the device change. The default view, recommended for gamers, utilizes a custom always-on popup.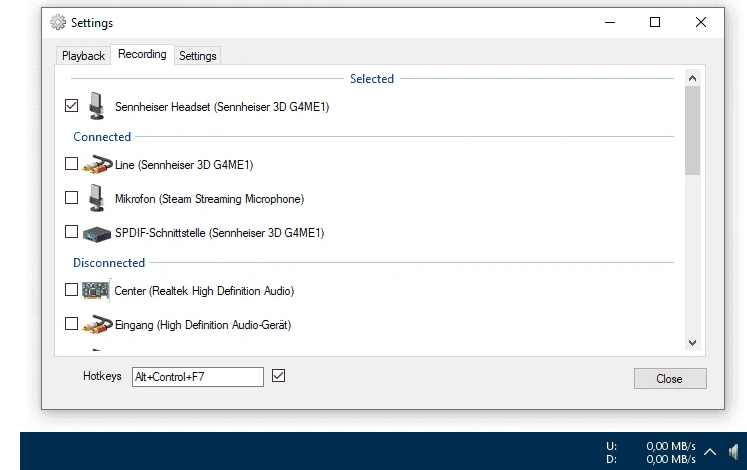 Among other notifications is the familiar Windows help bubble, reminiscent of our encounter with Clippy, Microsoft's assistant. In Windows 7, this bubble appears next to the system tray icon, while in Windows 10, it features a sliding animation from the right corner of the screen.
To avoid disturbing other users, SoundSwitch also allows playing a discreet sound to signal the device change. You can even specify the sound of your choice! And, of course, you can opt for a silent notification if you prefer.
To configure SoundSwitch, right-click on the icon in the taskbar and select "Settings." From there, you can choose the audio devices to switch and select the key combinations that suit you best. Don't forget to check the "Start automatically with Windows" box to enjoy this marvel whenever you start your computer.
Developer Jeroen Pelgrims and other passionate contributors deserve your full support. If you find SoundSwitch useful, don't hesitate to donate on the official website.
SoundSwitch is waiting for you, ready to be discovered here.