The Dell PowerEdge T330 is a versatile and reliable server supporting various business applications. However, the process of buying and building the server can be overwhelming, especially for those who are new to server hardware. In this comprehensive guide, we aim to provide detailed information and insights on how to purchase and build a Dell PowerEdge T330 server. We will share our experiences and offer practical advice to help you make informed decisions, avoid common mistakes, and ensure that your server meets your needs. Whether you are a seasoned IT professional or a first-time server builder, this guide will provide valuable insights and recommendations to help you get the most out of your Dell PowerEdge T330 Server.
Why Dell PowerEdge T330? Is T330 the right choice for you:
Dell PowerEdge T330 is a single socket entry-level tower server that belongs to the 13th generation of the Dell PowerEdge server family. In my opinion, this generation of hardware is at the sweet spot in terms of price, performance, and efficiency. Although the specs are mediocre at best, it should be more than enough for a general-purpose home server, and with a dGPU added, it can easily handle multiple 4k REMUX to 1080p 8Mbps plex transcoding. 
Pros:
Good spec for beginners
Somewhat power efficient, it idles at around 40W with no HDD and no dGPU installed (running stock cooling solution); with four 16TB Seagate EXOS drives and an MSI 1660 super installed, it idles at around 80W (custom cooling solution).
Can hold up to eight 3.5″ HDDs, supports both SAS and SATA
Relatively low noise with the stock cooling solution can be near silent with the custom cooling solution (details in build/mod guide)
The tower form factor can be converted to a rack mount with an adapter kit.
Enterprise remote access features
Good build quality, is very heavy, and is built like a tank.
Easy to work on, and spare parts are relatively cheap.
Cons:
Poor expandability, does not have many PCIE lanes, also there is almost no upgrade path to speak of
No iGPU support means no intel QSV transcoding acceleration; although Kaby Lake generation QSV supports HEVC codec, you will need a dGPU for hardware transcoding acceleration.
With proprietary form factor parts, firmware locks, and limited BIOS features, it might not function with incompatible parts installed.
Not as fast or as efficient as new builds
Spec and possible configurations: Dell's official spec sheet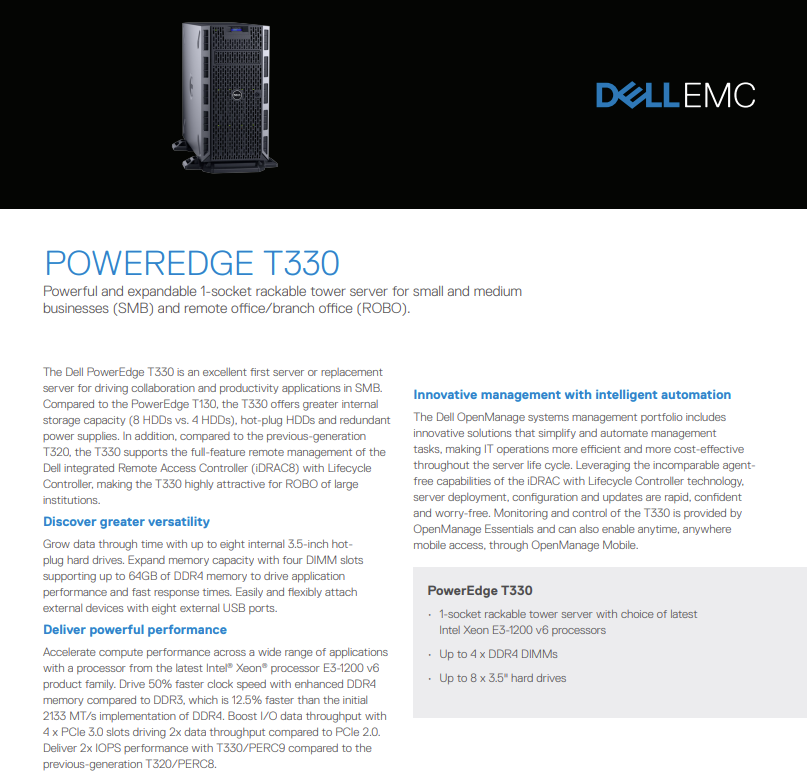 CPU: Skylake and Kaby Lake based: Xeon E3 12xx V5, Core i3, Celeron, and Pentium (BIOS update required for Kaby Lake CPUs)
iGPU: not supported, so there is no point in buying a CPU with iGPU if you wish to upgrade later. However, you can add a dGPU for video transcoding (more on that later)
RAM: up to 64GB in total, four-channel DDR4 ECC Unbuffered UDIMM (up to 2133mzh with Skylake Xeon, 2400mhz with Kaby lake Xeon), DDR4 ECC Registered RDIMM is not supported
dGPU: not supported officially. However, GPU can be added with a power distribution board mod. Due to the ventilation and power delivery constraints, I do not recommend adding a high-power draw GPU. PCIE x16 slot can only deliver up to 40W; some dGPU without external power might struggle. Also, the card is limited to PCIE gen3 x8 speed, and a dual slot dGPU will block one PCIE gen3 x8 slot.
Storage: up to eight 3.5″ SAS or SATA drives connected through the HDD backplane (up to eight 2.5″ drives also supported with adapter); two additional SATA 3 headers are on the motherboard.
Possible configurations:
Eight-drive HDD backplane connected to a RAID/HBA card: supports up to eight drives; this is the best possible configuration you can get
Eight-drive HDD backplane connected to the SFF 8087 port on the motherboard: supports up to four drives, common configuration; despite Dell claiming eight drives conversion is not possible, you can upgrade it to the above configuration with the correct cable and a RAID/HBA card.
Possibly a drive HDD backplane; however, I've never seen one, and it might not even exist, but be on the lookout anyway. If such a configuration exists, this would be the worst configuration to get; I recommend avoiding this one.
RAID/HBA card: Dell PERC (Power Edge Raid Controller) S130 (software raid, using the SFF 8087 port on the motherboard), Dell PERC H330, H730, H730P, and H830 (external SAS only). AFAIK both H330 and H730/H730P support HBA mode. Therefore, IT mode flash should be unnecessary. Only the PCIE card form factor is supported; T330 does not support a mini/monolithic version of the PERC card. Other RAID/HBA cards might be supported. However, it may exhibit unexpected behaviors. Differences between PERC cards
Possible configurations:
PERC H730/H730P: this is the best possible configuration, has an onboard cache, and can be identified by the onboard battery pack
PERC H330: unlike H730/H730P, this card does not have an onboard cache, but it shouldn't make much difference if you intend to use it in HBA mode
PERC S130: In the most common configuration, only one of the SFF 8643 ports on the HDD backplane is used; this configuration only supports up to 4 drives. It can be converted to an 8-drive system by adding a PERC H330/H730/H730P.
Power Supply: T330 can be configured with either one non-redundant 350W cabled power supply or two 495W hot-pluggable redundant power supplies. The 495W power supply is necessary for the above power distribution board mod. You can convert between these configurations but only use compatible power supplies, or the system will not function. Also, many claim that PSU firmware update runs the risk of bricking the PSU.
Possible configurations:
Dual 495W PSUs: best configuration; it's needed for adding dGPU that requires external power
Single 350W PSU: most common configuration, works fine if you don't need GPU. It can be upgraded to a dual 495W PSU.
Cooling solution: single 120mm 4 pin PWM exhaust fan; it spins very fast and can be loud. Can "upgrade" to Noctua case fan for better acoustic performance; however, thermal will be slightly worse
iDRAC (integrated Dell Remote Access Controller): iDRAC 8 Express is built into the motherboard. Additionally, the iDRAC 8 Enterprise add-in card is supported.
Read the manual and spec sheet for other specs and features.
My T330 Spec:
CPU: Xeon E3 1230 V5
RAM: 16GB DDR4 2133 ECC Unbuffered UDIMM
dGPU: MSI 1660 Super
HDD: 4 x Seagate EXOS X16 16TB SATA HDD
RAID card: PERC H730
PSU: Dual 495W PSU
iDRAC: iDRAC 8 Enterprise
Cooling: 2 x Noctua A12 case fan, 1 x Noctua A8 CPU fan, 1 x Noctua A4 fan (for RAID card, future project)
Supplemental materials: