Have you ever wondered who the brave people are who write, correct, and complete this incredible ocean of knowledge that is Wikipedia?
Most of them do exceptional work, and like Spiderman, they know that great power comes with great responsibility. Moreover, it is rather healthy to want to know who hides behind certain modifications of the encyclopedia because sometimes there are also small manipulations.
Besides, it would be great if a tool existed to know who wrote what on Wikipedia…
Oh, I'm stupid!! This tool exists, and it is an extension called "Who Write That? (WWT)."
This extension is available for Chrome and Firefox browsers in several languages, including English, German, Basque, Turkish, Spanish, and French. You can download it from the extension stores of these browsers.
After adding it to your browser, all you have to do is go to a Wikipedia article page in reading mode and take advantage of WWT's possibilities.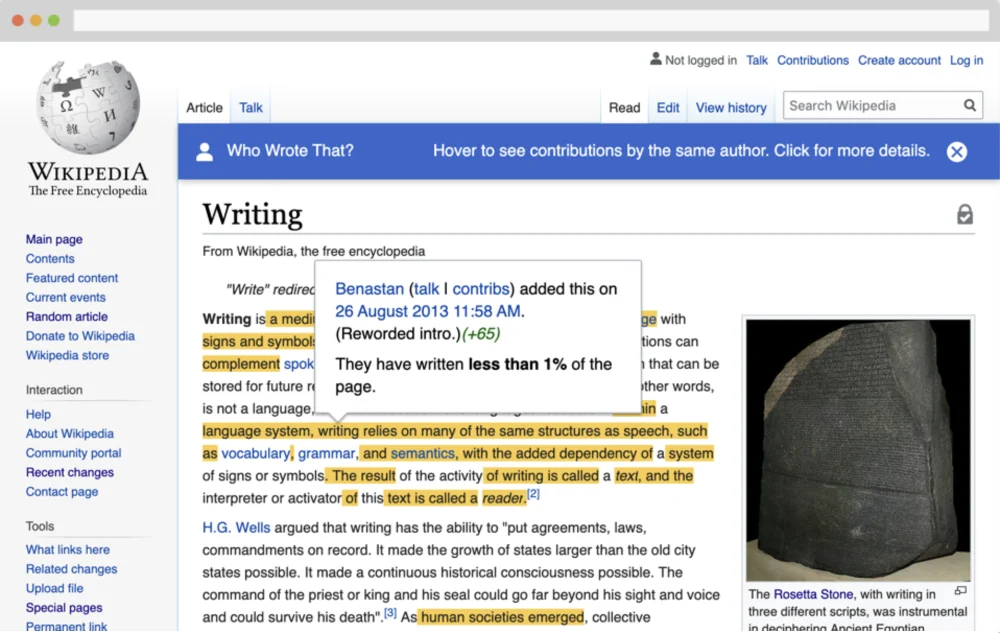 The first thing I noticed was the feature of highlighting similar content. Hovering over a thumbnail word or image reveals all other material written by the same author. As if that were not enough, WWT also offers to discover the history and details of each revision by clicking on a word or an image.
Thus, a pop-up will appear with the author's name, links to their user and talk pages, and that person's revision history. You will also be able to see the revision timestamp and a link to the details, the edit summary (if any), the number of bytes added or removed, and the percentage of the page written by the author.
Surprisingly, WWT also works on old versions of articles and "diff" pages to compare versions.
The WWT project is always in the process of constant improvement, and if you like it, the team behind the project is also actively seeking user feedback to refine its code.