Google has launched a crusade against the massively used ad blockers on YouTube. Now, the platform blocks the player if you use an adblocker, prompting you to disable it or subscribe to YouTube Premium. Contacted by Tom's Guide, Google confirmed that an "international campaign" had been launched, stressing that "the use of ad blockers is a violation of YouTube's terms of service".
The company said ads "support an entire ecosystem of creators around the world and allow billions of people to access their favorite content on YouTube." But its operation is already running into several hurdles, with adblockers showing great responsiveness in circumventing the restrictions. What's more, Google is in danger of being caught up in European privacy regulations. We'll break it all down for you.
YouTube: Ad blockers are still working

Several ad blockers like Adblock are now detected by YouTube. But others still escape repression. We are thinking in particular of the Adblocker for YouTubeTM extension, which is not worried by the new measures. But there are a lot of others:

uBlock Origin which still works on Firefox and even on Chrome (clearing the cache regularly).
The OperaGx browser, which has a built-in ad blocker, is also a good alternative.
While some extensions no longer work on some browsers, they remain effective on others. This explains the record number of uninstallations and installations that have occurred in recent weeks.
YouTube: Affected Ad Blockers Strike Back

Several large adblockers confirmed that they had already launched the major maneuvers. As Adguard puts it: "With YouTube, it's extremely important to ensure that ad blocker users receive the latest versions of filter lists. That's why we came up with the concept of 'differential updates' which is currently being adopted," says Andrey Meshkov, co-founder and chief technology officer of AdGuard.
These differential updates would not only circumvent Google's restrictions, reduce bandwidth consumption, and minimize latency. "Instead of retrieving the full list of filters every time an update is available, users would only download the changes made since their last update," AdGuard said.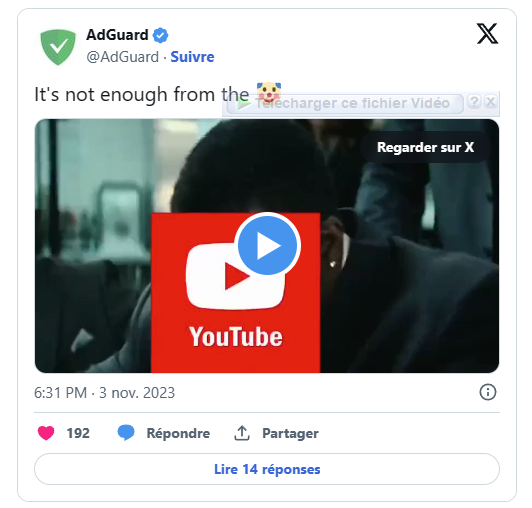 For its part, AdLock defends "the user's right to access information in any form whatsoever (even modified)". "The right to run programs on one's device must not be violated," it said. Its parent company, Hankuper s.r.o., has already taken drastic measures in the face of the restrictions:
"We've already released the Windows AdLock app (available on the website), allowing users to bypass all of YouTube's restrictions. After a successful rollout, we plan to expand this mechanism to other platforms," confirms CEO Dmytro Astrakhantsev.
YouTube: the fight against Adblock risks coming up against European regulations
Alexander Hanff, a specialist in data protection and privacy, believes that YouTube is violating Article 5 of the European directive on the protection of privacy in the electronic communications sector. In essence, it prohibits the use of personal data collected without the user's consent. The problem is that YouTube would use an illegal tracking script to spot ad blockers, which would go against the directive.
Believing that it is "spyware" aimed at monitoring user behavior, the expert filed a complaint against Google with the Data Protection Commission (DPC) in Ireland. And if the irregularity is confirmed, it could have a snowball effect across Europe. Alexander Hanff is rather optimistic, even in the event of an appeal. Speaking to Le Figaro, he said that many similar complaints had been filed.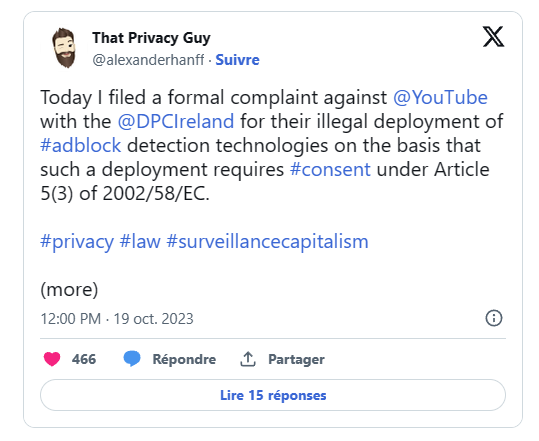 For the GDPR, it is the one-stop-shop mechanism that takes precedence: "when a company has its European headquarters in another EU state, it is the data protection authority of that state that is competent to act in cooperation with the other authorities concerned". But this mechanism "does not apply to trackers and cookies covered by the e-privacy directive", concludes the CNIL, citing the sanctions adopted against Google, Facebook, Microsoft and Apple.
"We will, of course, fully cooperate with the Data Protection Authority for any request or question," Google said. According to The Register, Alexander Hanff has also filed a lawsuit against the giant under Ireland's Computer Abuse Act."